Step 1: Get ye some concept art!
To create your suit we will require a Reference Sheet that shows off front, back, and side of your character.  The more clear your Ref Sheet is the better!  We rely on that sheet for all your details so make sure it's accurate.
We offer a  Ref Sheet Drawing Service which you can use at any time in  preparation for getting a quote. Because this is drawn  by Ostrom (head lemonbrat designer) it will reflect our suit style nicely!
There are also a number of great artists out there you can commission  for your Ref Sheet – or you can draw it yourself!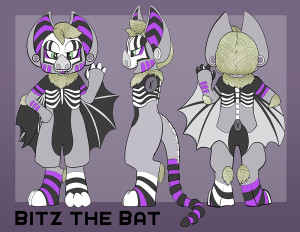 Step 2: Save your pennies 🙂
. . . and quarters, and dollars, etc. Prices for partials start at $1500, and full suits start at $2500. You can get a better sense of the cost of your suit  by checking out the Price Guide.
People that do not have at least 1/3rd the total of their suit ready to pay  should not submit a Quote Form. Just save up, and come back when when you're ready! 🙂
Step 3: Submit your quote 
We only have 3 suit orders in progress at a time; the progress of these projects are visible right on our front page.  When one of those gets completed we make our  Quote Form live and are able to take another fursuit order!
The quote form allows you to submit your Ref Sheet, and fill out a bunch of  info concerning your suit, like: body style, fur color, and other details.  To prepare for filling out the quote you can Take the Tour on our website  to familiarize yourself with all the variations we offer for our suits.
Submitting your Quote Form does not guarantee we will make your suit – it  just makes you a candidate for consideration. We will select from the  submissions based on what we would like to make, and what is within our  comfort zone to make to ensure we are giving you the best suit we can!  If we don't currently have time for your suit we may contact you about the  possibility of doing it in the future, and if the suit is something we feel we  can't do we will let you know so you can seek out other great suit-makers.
Step 4: Payments
If you are capable of paying in full you may do so.  If you need to schedule payment plans (begining after your 1/3rd down payment) you may do so – please discuss with us. If you opt for an  elongate payment plan please be able to pay  at least $200 a month towards your suit.
Down-payments, and any other payments are NON-REFUNDABLE. All fursuits are custom-built, and are not eligible for returns or exchanges.

PAYMENT MILESTONES:
DOWN PAYMENT (33%)– We use this to buy all your needed materials. If we have any details to finalize with you we will do so at this time.  After this point the details of your suit are LOCKED IN. Also – you will need to get crackin' on your Duct Tape Dummy  – more on that later.
PAID at 75%– We will begin official construction of your suit once you've hit 75%. Please have your DTD to us by this time.                                                                             Completion time  from this point is usually around 1-2 months.
FULLY PAID (100% + shipping costs)– We can only ship your suit to you once you've completely paid off your costume.
Step 5: DTDs and Measurements
If you are getting a full suit we require you send us a DTD. We have a provided tutorial to help you with this. Your DTD should be well-made, according to the specifications of the video (i.e.: ample layers of tape, no bent limbs, etc). If you send an ill-formed DTD you will be required to submit a new one. We rely on this to get your proportions right.
If you are only getting a partial we do not need a DTD – but we will need to know the length of your arm from shoulder socket to wrist, and the  circumference of your upper arm.
Other measurements we will need from people getting full suits or partials are:
The horizontal measurement around your head.
The measurement from hairline to chin, down the center of your face.
Height
Weight
Your shoe size
A hand-turkey (seriously! It's so we know your glove size)
Step 6: The Construction Process
Fur Choice – Some fur choices are straightforward, some are not. If we have any specific color questions we can send you pics, or swatches if needed.  Be aware that there is a limit on available colors and fur lengths out there. If your design contains colors that we know to be extremely rare/impossible  to find we can forewarn you and help you select an alternative color if needed.
Personal Preferences – Most of this will be discussed in your quote form – so please note anything specific we should know. A great example  of this is if you are shoe picky you can arrange to send us a shoe of your choice for your fursuit feet. The more we know ahead of time the more accommodating we can be.
Progress Pics – We will be sending you a few progress pictures here and there throughout the construction process. Please don't expect updates every day – they  will come when we have progress to show!
Step 7: Wrapping Up 
Once all your payments are in, and we are done constructing we will be sending you completed pictures of your suit from all angles. This is to double-check we got all your details right before shipping out!
We send all packages via USPS Priority Mail. Each package is ensured and will require your signature upon arrival. Priority Mail typically takes 3-4 days to ship within the USA, or up to 2 weeks for packages outside the USA.
Once you've received your suit please check over it. If there are any fitting issues please contact us right away so we can arrange to adjust it.  Please read over our Warranty policy for further info.